We love sushi. We love it so much that we rarely make it at home, well, because Uchi is just down the street. But this is a great kitchen project to do with your significant other when youre looking for something fun to do. Also this version is much less expensive! The only thing required for €œsushi date night€ is a bamboo mat and a positive attitude. You need to be in the kind of mood where you can laugh at each other when you get brown rice stuck all over your fingers and when your rolls dont turn out perfect but theyre delicious anyway.
Here is our version of not-perfect vegetarian sushi.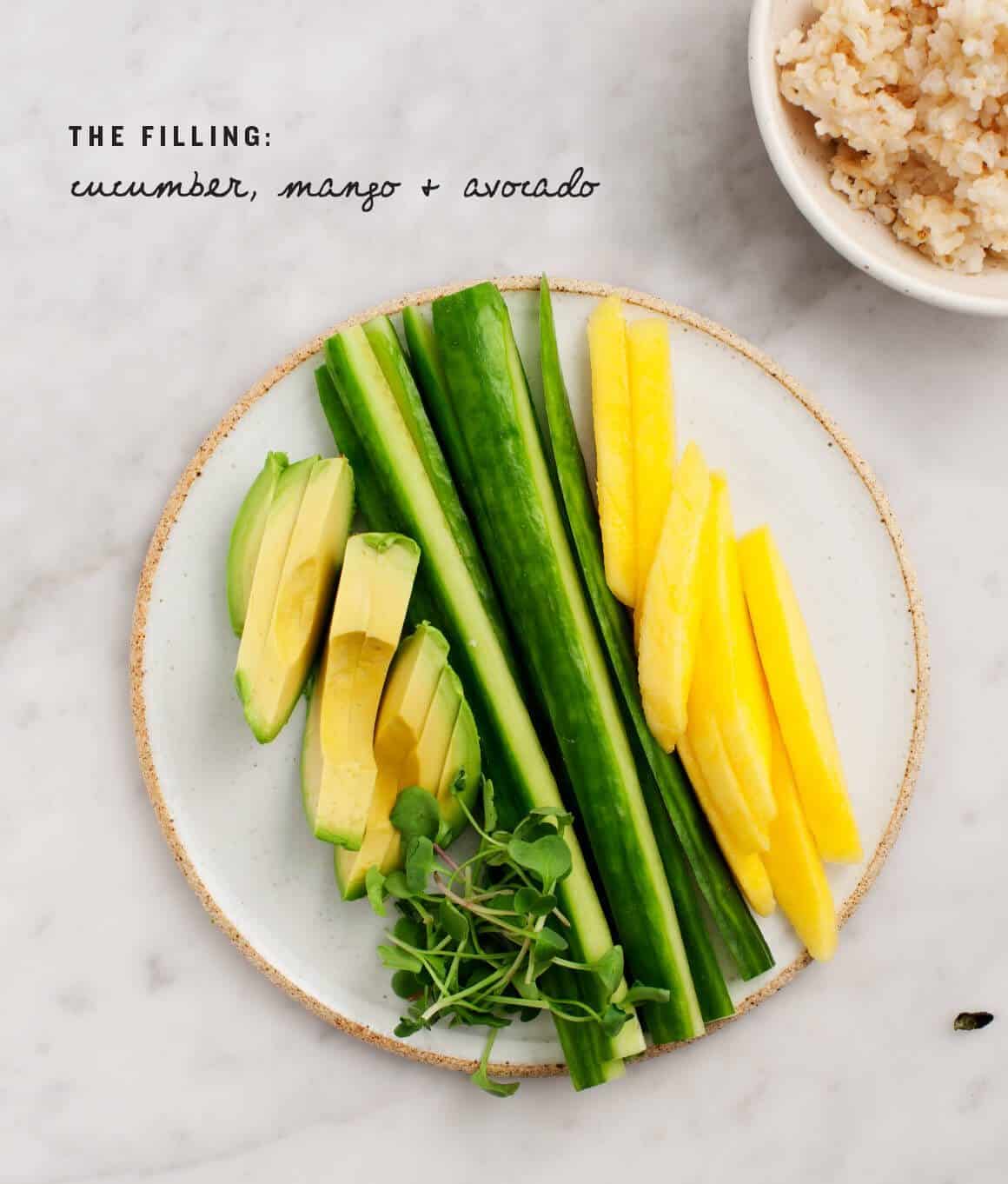 This is one of my favorite unexpected ingredient combinations, originally inspired by one of the vegan rolls they make at our Whole Foods. Crispy cucumber, sweet mango, and creamy avocado. Its so simple & so good. Ive even used it as inspiration before €" last year, I made this deconstructed €œrice bowl€ version. If youre not into rolling your own sushi, that recipe is for you.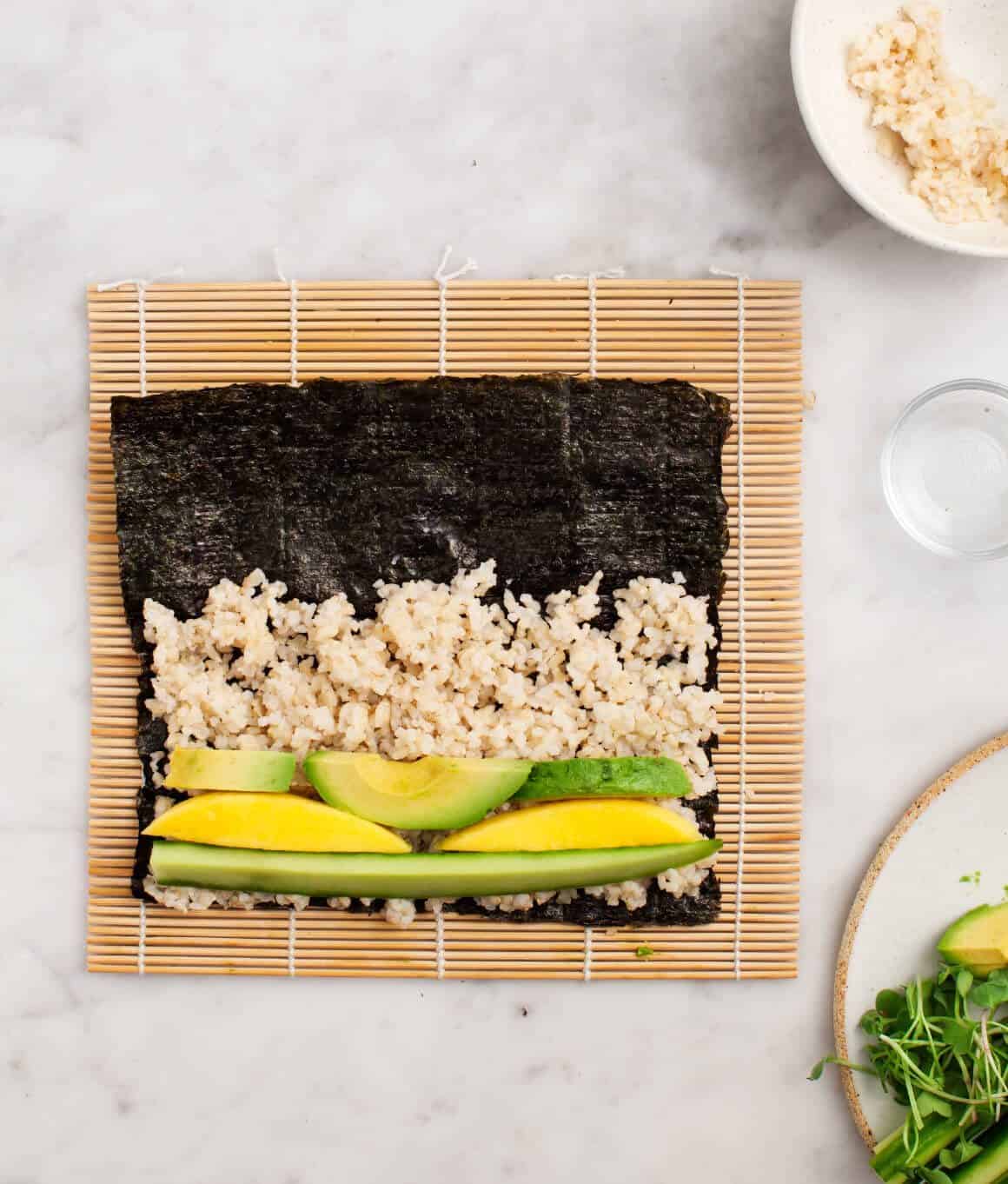 I sliced and diced the ingredients, and off we went to make some maki. You may notice a new (male) pair of hands in the photo below. A few of my rolls werent looking so hot so Jack jumped in and saved the day with his unexpected sushi rolling skills while I took to the camera to get the evidence. #teamwork
Ingredients
for the rice:
1 cup short grain brown rice, rinsed well
2 cups water
2 tablespoons rice vinegar
1 tablespoon sugar
1 teaspoon sea salt
for the rolls:
1 cucumber, sliced into long strips
1 ripe mango, sliced into vertical strips
1 avocado, sliced
…" cup micro greens, optional
2 tablespoons sesame seeds, optional
4 nori sheets
serve with:
tamari or ponzu sauce
Coconut peanut sauce from this recipe, optional
Instructions
Combine the rice and water in a rice cooker and cook on the brown rice setting. If you dont have a rice cooker, combine the rice, water and 1 teaspoon of olive oil and bring to a boil. Cover, reduce heat, and simmer for 45 minutes. Remove the rice from heat and let sit, covered, for 10 more minutes. Fluff with a fork.
Meanwhile, in a small bowl, combine the rice vinegar, sugar and salt. Heat it in the microwave for a few seconds to allow the sugar to dissolve.
Prep the filling ingredients for the rolls and set aside.
Transfer the rice to a large bowl and pour in the vinegar mixture. Use a spatula to gently fold in the rice until the mixture is fully incorporated. The rice will start to look glossy. (Traditionally, you fan it to cool it while doing this.
Place a small bowl of water and a kitchen towel near your work area as your hands will get sticky. Place one nori sheet, glossy side down, onto a bamboo mat and press a handful of rice onto the lower two-thirds of the sheet. At the bottom of the rice place your toppings (see picture). Dont overfill or it will be more difficult to roll. Use the bamboo mat to tuck and roll the nori. Once rolled, use the bamboo mat to gently press and shape the roll. Place the roll to the side, cut side down. Repeat with remaining rolls.
Use a sharp chefs knife to cut the sushi. Wipe the knife clean with a damp towel between cuts.
Serve immediately with tamari or ponzu sauce and coconut peanut sauce, if using.