PETA is proud to announce that The North Face will be receiving its second Innovator for Animals Award in recognition of its new, revolutionary Moon Parka that uses vegan silk. (The North Face previously won this award for its development of ThermoBall"¢ technology, which mimics the warmth and loft of down without using bird feathers.)
Approximately 1,400 spiders are needed to produce 1 ounce of silk, but this new synthetic silk will spare these intelligent, crafty animals the trauma of captivity and stress-induced cannibalism and will allow them to use their protein fiber for its intended purpose €" to make webs, catch prey, and protect their eggs.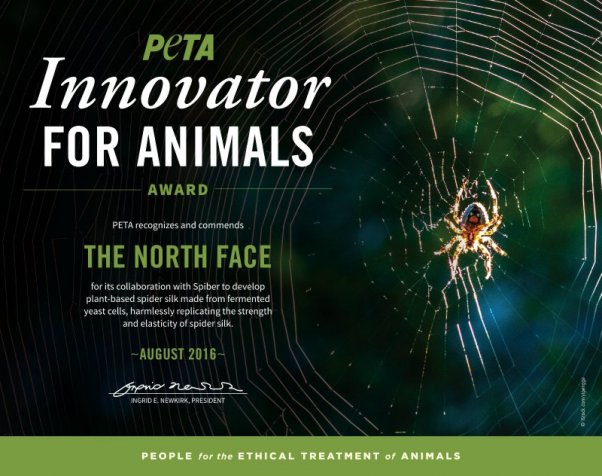 Other cruelty-free fibers helping to revolutionize the fashion industry include cactus silk, milkweed seed pod fibers, and Ceiba tree filaments. By using cruelty-free technology, The North Face is not only setting a compassionate example for others in the clothing industry but also helping to prove that using animals to create clothing is unnecessary.
Want to help make animal-based materials a thing of the past? Please check out our Shopping Guide to Compassionate Clothing for animal-free shopping tips.
Want more inspiration? Sign up for Living E-news for more vegan lifestyle tips, recipes, and news.