You can get tasty vegan meals almost anywhere today, which is why 2016 is #TheYearOfVegan. Weve scoured the country and selected the most vegan-friendly cities. Did your favorite city make the cut?
1. Portland, Oregon

This year, Portland, Oregon, takes the top spot on PETAs list, thanks in part to its array of vegan and vegan-friendly restaurants. For example, Back to Eden Bakeryserves up egg- and dairy-free baked goods and ice cream sundaes. Vtopian Cheese Shop & Deli offers over 20 vegan artisan cheeses, plus vegan pepperoni melts, paninis, and cheesecake. Homegrown Smoker Vegan BBQ features meat-free barbecue and cheesesteak subs, tempeh ribs, and Mac No-Cheese. Portobello Vegan Trattoria prepares lobster mushroom potato cakes, ravioli, tiramisu, and house-made coconut ice cream€"all-vegan, of course. Petunias Pies & Pastriesserves everything from vegan biscuits and gravy and Belgian waffles to blue corn tacos and vegan grilled cheese. Even Portlands iconic Voodoo Doughnut now offers vegan doughnuts.
In addition to many meat-free restaurants, Portlands all-vegan enterprises include abed and breakfast, a summer camp, a punk-metal bar, a strip mall, a tattoo shop, and even a strip club for those seeking a bit more excitement!
And thats not all. Its fairly easy to find vegan family medical practitioners, vegan counselors, vegan real-estate agents, and other lifestyle services offered by vegans in Portland.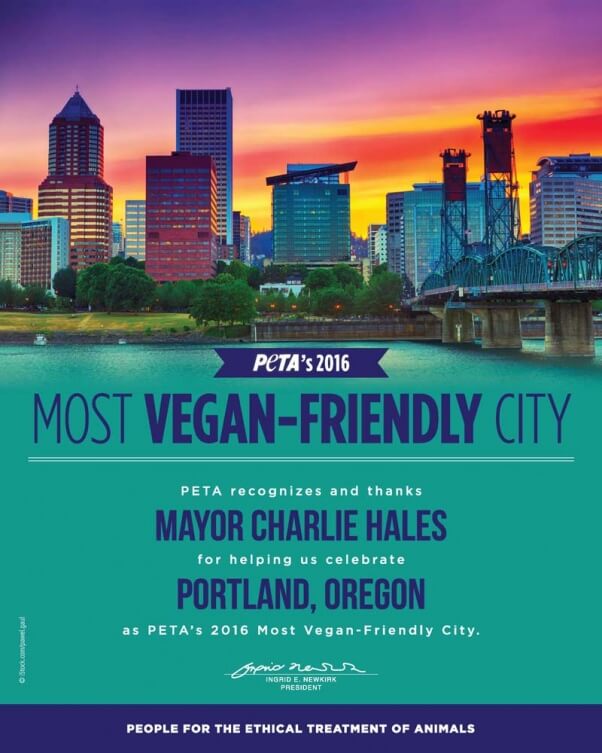 2. Los Angeles

The City of Angels has more listings on HappyCow€"a website that lists regional vegan and vegan-friendly eateries and events€"than any other U.S. city. L.A. is home not only to an animal rights€"related museum but also to PETAs West Coast headquarters, so you can rest assured that the vegan options have been thoroughly, um, tested.
Crossroads is a star-studded vegan restaurant that serves mouthwatering fare, including Scaloppini Marsala and artichoke oysters, prepared by celebrity chef Tal Ronnen. PETAs pal Moby recently opened little pine, a Mediterranean-inspired vegan restaurant, and donates a portion of proceeds to support our work. Gracias Madre, eLOVate Vegan Kitchen & Juicery, Ramen Hood, and Sage Organic Vegan Bistro are just a handful of other popular vegan eateries in the city. Locals also love Mohawk Bend, where all menu items are vegan unless marked €œNV€ for €œnot vegan€; the all-vegan Japanese restaurant Shojin; and Spork Foods, a vegan food company and culinary school that conducts cooking demonstrations and in-home teaching. It also provides vegan culinary services, as does Veggie Fixation.
Looking for vegan guilty pleasures? Stop by Donut Friend, which offers a wide variety of unique vegan doughnuts and vegan fillings, such as coconut cream, cream cheese, and more. Erin McKennas Bakery LA, Scoops, and Donut Farm are just a few others that offer mouthwatering vegan desserts. Anyone looking for late-night vegan cheeseburgers and chili cheese fries can head over to Doomies Home Cookin.
It would take ages to mention all the vegan-friendly spots in the city, but BuzzFeeds€œ21 Vegan Places in Los Angeles Thatll Make You Want Seconds€ should help convince you that vegan options abound in L.A.
3. New York City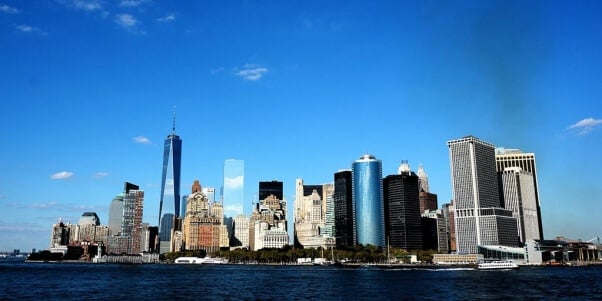 Is it any surprise that the Big Apple made the list again this year? In 2014, PETA named the city the most vegan-friendly spot in the nation and actor Alan Cumming presented the mayor with a sculpture of the New York skyline made entirely of vegetables.
In addition to Candle 79, Blossom, and the other restaurants mentioned in PETAs 2013 list of top vegan-friendly cities, there is by CHLOE, a vegan restaurant featuring locally obtained ingredients, and Franchia Vegan Cafe, which is one of the best Asian-fusion restaurants in the country. VSPOT, which has a location right next to New York University, serves scrumptious Latin fare, and Blossom du Jour, V Burger, VLife, and Terri have locations throughout the city where diners can get an inexpensive and delicious vegan lunch.
Plant-based eating has become so popular that famed restaurant owner Ravi DeRossi is making his 15 bars and restaurants vegan! Vegan pop-ups appear throughout the city as chefs rent out locations to try cutting-edge new vegan fare. New York City has a plethora of animal advocates who routinely speak out against horse-drawn carriages, fur, and using animals for food. Theres even a Veggie Pride Parade each April.
4. Detroit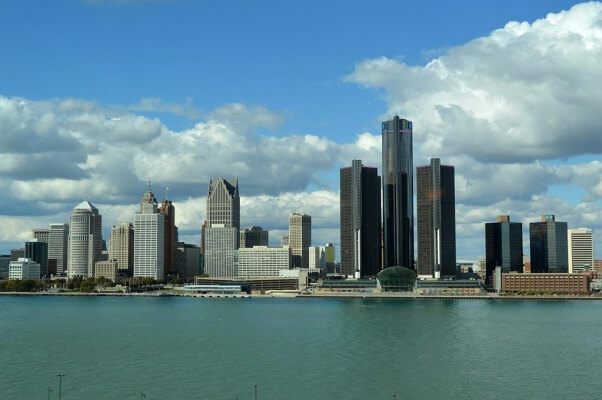 Detroit is going through a revitalization, and vegans are being welcomed with open arms. Residents rave about Detroit Vegan Soul, which offers mac and €œcheese,€ €œcatfish€ tofu, barbecue tofu sandwiches, collard greens, and okra stew, among other vegan dishes. Seva serves vegan buffalo tempeh wings and Thai noodles. Whether you live in this former €œmeat and potatoes town€ or are just passing through, be sure to check out these noteworthy vegan-friendly spots:
Russell St. Deli offers vegan options, including a TLT€"a tofu, lettuce, and tomato sandwich with house-made vegan mayo. Brooklyn Street Local has a vegan Reuben with house-made seitan and vegan poutine (a Canadian dish thats typically made with French fries and cheese curds topped with a light brown gravy).
Detroit is known for its bar scene, so we have to mention that dive bars and fancier establishments alike are offering up delicious fare€"like beloved PJs Lager House, which offers up vegan fried pickles, veggie burritos with spicy vegan queso, and po boys. And popular bars Jolly Pumpkin, HopCat, Green Dot Stables, and others have vegan options.
Pizza fans can get vegan pies at well-known Buddys Pizza, the Majestics Sgt. Pepperonis Pizzeria & Deli, and metro Detroits Hippies Pizza.
Nearby Om Café serves a Quinoa Protein Salad and Loaded Vegan Mac, and Chive Kitchen focuses on fresh and local products.
You can get sweet potato€"black bean chili and vegan nachos at the Shimmy Shack, among other yummy dishes, and the Mac Shack will make mac €˜n cheese and French fries with vegan cheese sauce, upon request.
Avalon International Breads offers several vegan items, including savory sweet potato bánh mì sandwiches; a variety of vegan muffins; and more.
Just outside Detroit in Ferndale is GreenSpace Café, an artisanal plant-based restaurant and craft cocktail bar run by Dr. Joel Kahn, a cardiologist who advocates plant-based eating.
5. Nashville, Tennessee

Nashville, Tennessee, is perhaps best known for country music, and vegan country star Carrie Underwood has helped put vegan living on the map. Its now easier than its ever been to find vegan options in the Grand Ole Opry state, which is why Nashville is on our list for the first time. You can find vegan offerings everywhere, from Vegan Vee bakery to Avo, a new vegan restaurant that offers vegan wine and tree nut cheeses. Coco Greens café went from vegetarian to vegan in 2014, and the ever-popular vegan-friendly Sunflower Vegetarian Cafe has €œmore vegan and gluten-free options than you can shake a stick at!€ Frothy Monkey lists tofu as a meat, The Urban Juicer is one of the many spots offering almond and soy milk, and Mad Donnas offers a vegan black-bean burger.
You can get vegan cheese pizza at many pizza places, including Five Points Pizza, Mellow Mushroom, and Two Boots. You can find vegan offerings at other restaurants, too. Bagel Face Bakery offers agave and vegan sausage. The Post Eastoffers a chickpea salad sandwich, vegan Caesar salad, buffalo-style tofu, and vegan ranch dressing. Sloco serves a vegan meatball sub and a seitan sandwich. And MyVeggieChef is Nashvilles popular plant-based meal-delivery service.
6. San Diego
Los Angeles isnt the only vegan-friendly city in California. A lot of restaurants in San Diego now offer vegan options. Take, for example, Civico 1845 in Little Italy, which offers an entire vegan menu, including desserts. And if dessert is your thing, youll probably also like Moncai Vegan, a vegan restaurant and bakery that sells vegan cupcakes, vegan cinnamon rolls, and vegan doughnuts. Speaking of vegan doughnuts, they can also be found at Donut Panic.
Whos up for Mexican? Ranchos Cocina is a vegan-friendly Mexican restaurant that offers vegan cheese and a variety of faux meats, and be sure to check out Casa de Reyes, a restaurant in Old Town. Pokez Mexican eatery also offers various vegan options. If youre in the mood for Thai, try Veganic or the vegan-friendly Plumeria. If youre looking for vegan fast food, try Evolution and Plant Power Fast Food. Want fresh fruits and veggies? Check out Sol Cal Cafe, a vegan-friendly market and juice joint, which was created in part by former NFL great Jacob Bell.
Kindred is a vegan death-metal cocktail bar that serves everything from Seared Cauliflower Steak to Memphis BBQ Jackfruit sandwiches, and Peace Pies is a vegan spot that practices a €œstrict zero waste€ policy. Other vegan-friendly places in San Diego include The Purple Mint Vegetarian Bistro and Sipz Vegetarian Fuzion Cafe.
Because California has had a drought for so long, local activists persuaded many €œmeaty€ restaurants in town to put up signs encouraging customers to choose their vegan options as a way to help conserve water. Vegan food is everywhere you look in San Diego, including at Petco Park, which made PETAs annual list of vegan-friendly stadiums last year, and peta2 named the University of California€"San Diego a vegan-friendly campus in 2015.
7. Honolulu

Whats paradise without vegan food? Hawaiis capital is becoming more and more vegan-friendly every year, and its currently home to these and other vegan-friendly restaurants:
Simple Joy is all-vegan and offers barbecue drumsticks, vegetable lasagne, and more.
Greens & Vines is a gourmet vegan restaurant offering vegan sushi, €œliving€ lasagne, vegan cheesecake, and more.
Peace Cafe is an all-vegan café serving up curry egg-free salad, teriyaki tempeh sandwiches, vegan Caesar salad, homemade vegan ice cream, and more.
Govindas Under the Banyan is an inexpensive vegetarian buffet with many vegan options and a botanical atmosphere.
Downbeat Diner & Lounge is a sports bar that offers vegan hot wings, vegan barbecue wings, a vegan burger, and more. The place isnt exclusively vegan, but every menu item can reportedly be made vegetarian or vegan.
Ruffage Natural Foods is a casual spot that offers vegan chili, a tofu scrambler, and other healthful vegan options.
Blue Tree serves several vegan options, including a tofu curry wrap and oatmeal made with almond milk.
Down to Earth is an organic and natural-foods store.
Banán is a dairy-free food truck featuring vegan ice cream.
Water Drop Vegetarian House is a vegan-friendly restaurant with a Chinese flair.
Nickie-Café is a small spot with popular vegan options, including vegan pho.
Loving Hut is an all-vegan chain restaurant with locations around Honolulu.
Aloha!
8. Austin, Texas

It may be in cattle country, but Austin, Texas, has plenty of places that serve cow-free food. It even took the top spot on PETAs list of vegan-friendly cities in 2013. In addition to all the vegan food trucks, vegan-friendly restaurants, and the vegan ice cream parlor that we raved about in 2013, there is now Counter Culture restaurant, which serves meat-free and dairy-free food featuring produce from local farmers. Locals love vegan food trucks, The Vegan Yacht, The Vegan Nom, Guac N Roll and BBQ Revolution. And there are even more all-vegan businesses: Arlos, Bistro Vonish, Capital City Bakery, Casa de Luz, Cool Beans, Happy Vegan Baker, Rabbit Food Grocery, Skull and Cakebones, and Unity Vegan Kitchen.
9. Seattle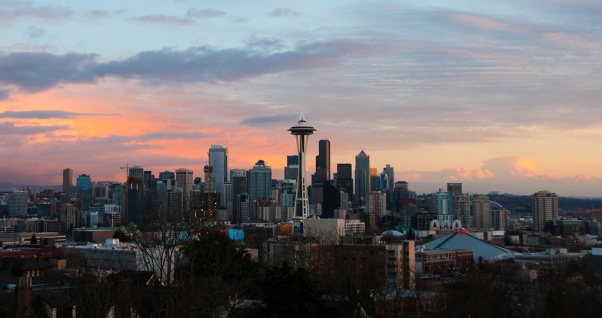 Not only is Seattle full of vegan-friendly coffee houses and cafés, including 701 Coffee and Chaco Canyon Organic Café, it also has an all-vegan grocery store called Vegan Haven. Vegan options are available throughout the city, including at Pizza Pi, the countrys first vegan pizza place; Plum Bistro; Cycle Dogs, a bicycle-pulled vegan hot dog cart; Wayward Vegan Cafe; and Thrive, which serves raw and vegan food thats gluten- and peanut-free. Its clear that no amount of rain can dampen Seattles hard-core vegan spirit!
10. Richmond, Virginia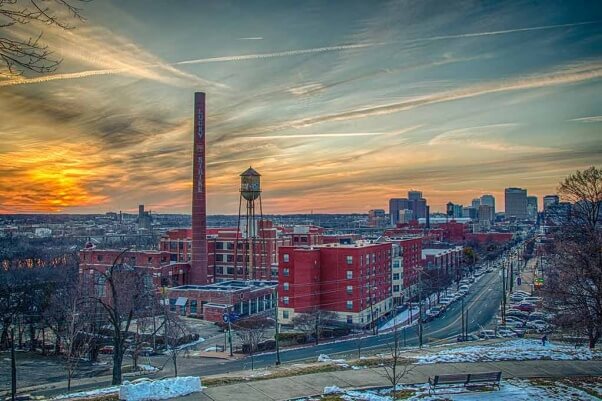 Virginias €œRiver City€ is packed with many vegan-friendly eateries. Among them is Strange Matter, a popular hangout that has vegan nachos, vegan mac €˜n cheese, vegan chicken cheesesteak sandwiches, and much more. Phoenix Garden, a Vietnamese noodle house featuring plenty of filling vegan food is another not-to-be-missed restaurant. Harrison St. Café, Ipanema, and 821 Café all offer mouthwatering vegan options. For the Love of Chocolate even caters to vegan chocoholics.