Hong Kong's Li Ka-shing is among the investors in Just, whose Scramble, made using mung beans, could be key to delivering cheap, nutritious food to world's growing population, says its Silicon Valley co-founder Josh Tetrick; we give it a taste test.
Your breakfast omelette might not be made with egg soon if a new, plant-based imitation created by US vegan startup Just takes off.
Made with mung beans, a cheap, protein-rich legume, Just – Scramble is designed to imitate the flavour, texture and cooking properties of egg while boasting a lower environmental impact. Hong Kong's own Li Ka-shing is a fan and has invested in the product.
Launching for the first time outside Just's San Francisco base, the product was introduced to the menu at Hong Kong vegan restaurant and shop chain Green Common by Green Monday founder David Yeung and Just's co-founder and CEO Josh Tetrick last month.
"There are seven billion people in the world and the way the food system works today [it] simply cannot sustain [them]," said Yeung as he announced his company's partnership with Just, the Silicon Valley food maker known as Hampton Creek before it changed names last summer.
"Plant-based is the biggest food trend for 2018 because more people are awakening to the fact we have to change. Most of the world's population is concentrated in Asia. If we want to truly change the world, change needs to start here."
With a lighter and less rubbery texture than egg, and a milder, slightly processed flavour that one colleague likened to soy, Scramble – a liquid mixture of mung bean protein, canola oil, water and salt – was a good egg analogue.
Social media reaction to Just Scramble
More attentive diners might notice the difference when the Scramble is served solo on Green Common's breakfast plate, but, when tossed with vegetables, drizzled with a sticky teriyaki sauce and served with rice, it was difficult to distinguish from actual egg.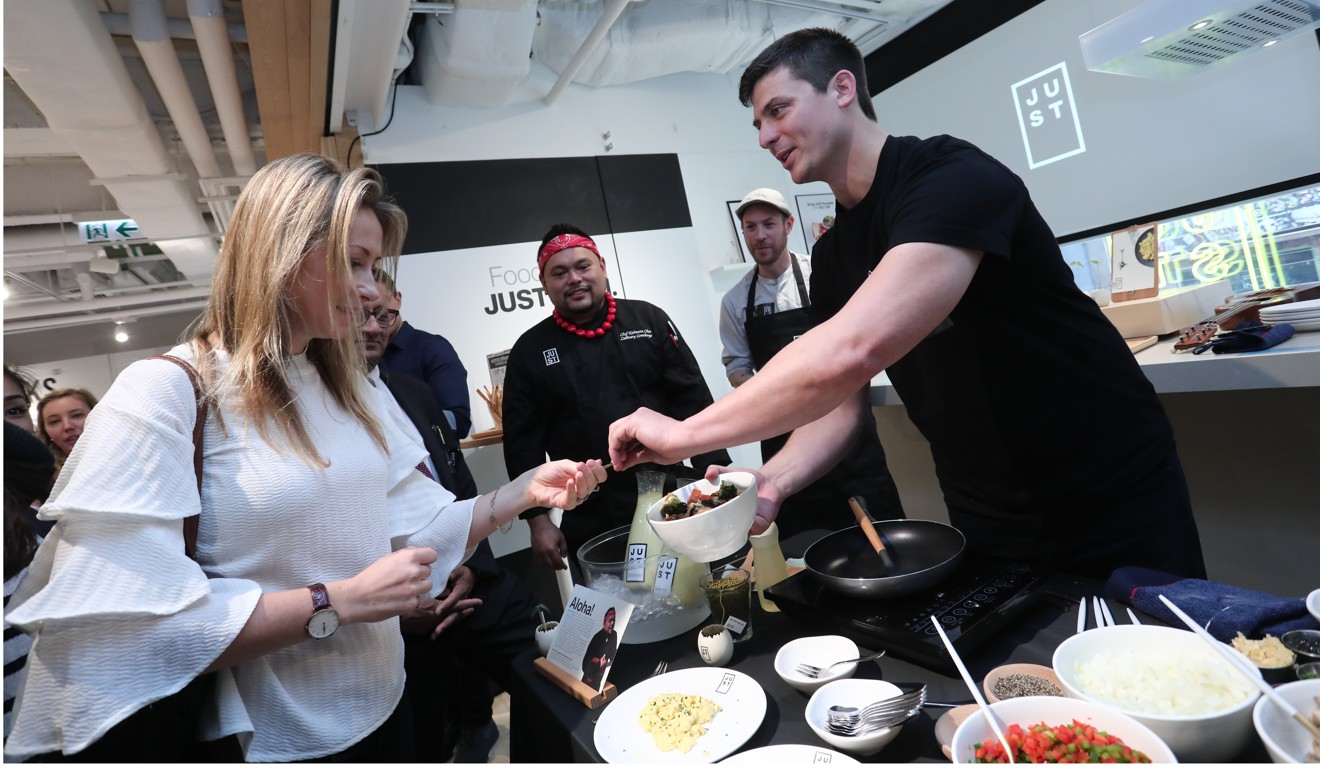 If you can make food taste good, [look] sexy and be wholesome in a way that connects with people, even if they don't care about the environment, animal welfare or their health, they'll still eat it
Eggs are the world's most popular source of protein: more than one trillion are laid globally each year, and China is the world's biggest producer, accounting for 37 per cent. For those cutting back on meat yet allowing animal-derived proteins, eggs can be an important source of nutrition.
An egg sandwich might not involve slaughter, but that doesn't mean it is any greener. Producing a dozen free range eggs generates more than two kilograms of CO2 emissions, or 1.6 kilograms of CO2 per kilo, according to a 2014 study in the journal Poultry Science.
Eggs that come from caged hens, as most sold in Hong Kong are, have the least environmental impact, yet sacrifice the creature's welfare and quality of life.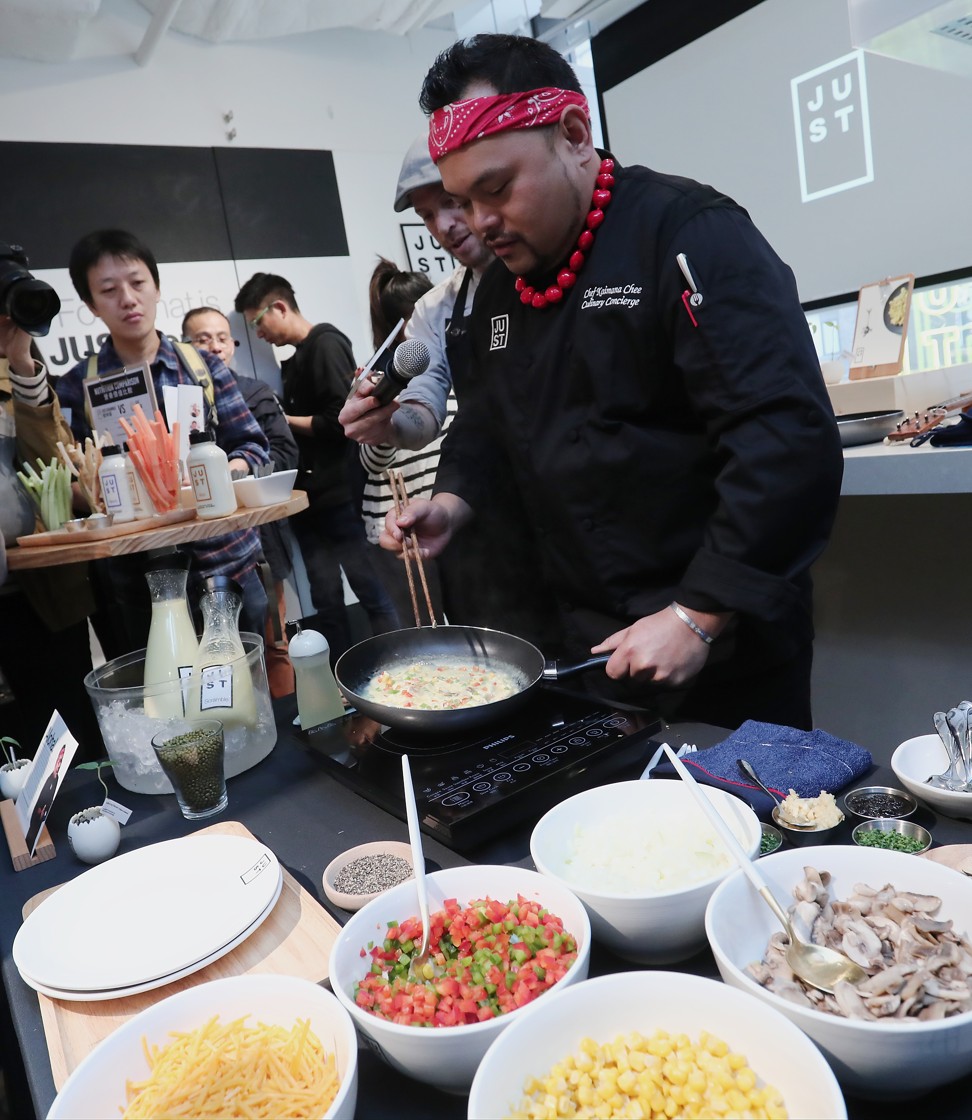 "We try to avoid the label because the word ends up being polarising in a way that is not helpful," he says. "Heinz ketchup is vegan, but no one ever thinks of it that way. So we like to think: let's just make really good food.
More social media reaction to Just Scramble
"Not everyone cares about the environment, but it shouldn't be just people that care who are eating better. If you can make food taste good, [look] sexy and be wholesome in a way that connects with people, even if they don't care about the environment, animal welfare or their health, they'll still eat it."
For Tetrick, a 37-year-old entrepreneur and former lawyer, a move into food science and nutrition was partly motivated by his disadvantaged upbringing in the American South. Growing up in Birmingham, Alabama, the cheapest eats available were often the least healthy; a problem that persists in the food system today, particularly in the West, where single portions of fruit and vegetables can cost several times more than a fast food snack and require time in the kitchen to prepare.
Feeling 'hangry'? Four easy ways to make sure you don't ever again – by eating right
"We have a bad habit of blaming people for how they eat," Tetrick says. "My parents were good people – they didn't give me US$5 every day to get a Burger King chicken sandwich with 7-Eleven nachos and cheese because they didn't care about the environment, or animals, or me. It was cheap and easy and I ate it."
After graduating in law, Tetrick spent seven years in Africa working and volunteering for charities, teaching children in Nigeria and South Africa and lending his legal knowledge to United Nations and government projects in Liberia and Kenya. He moved back to the US in 2011 and began thinking about how he could solve the problems he'd noticed in the global food system while abroad, such as people's access to cheap, nutritious food.
"I got really frustrated seeing all these problems around me that weren't being solved by governments or non-profits. I got back to the US and wanted to do something with my life. I thought: what if I start a company that tries to think differently about the big system that is causing a lot of harm," he says.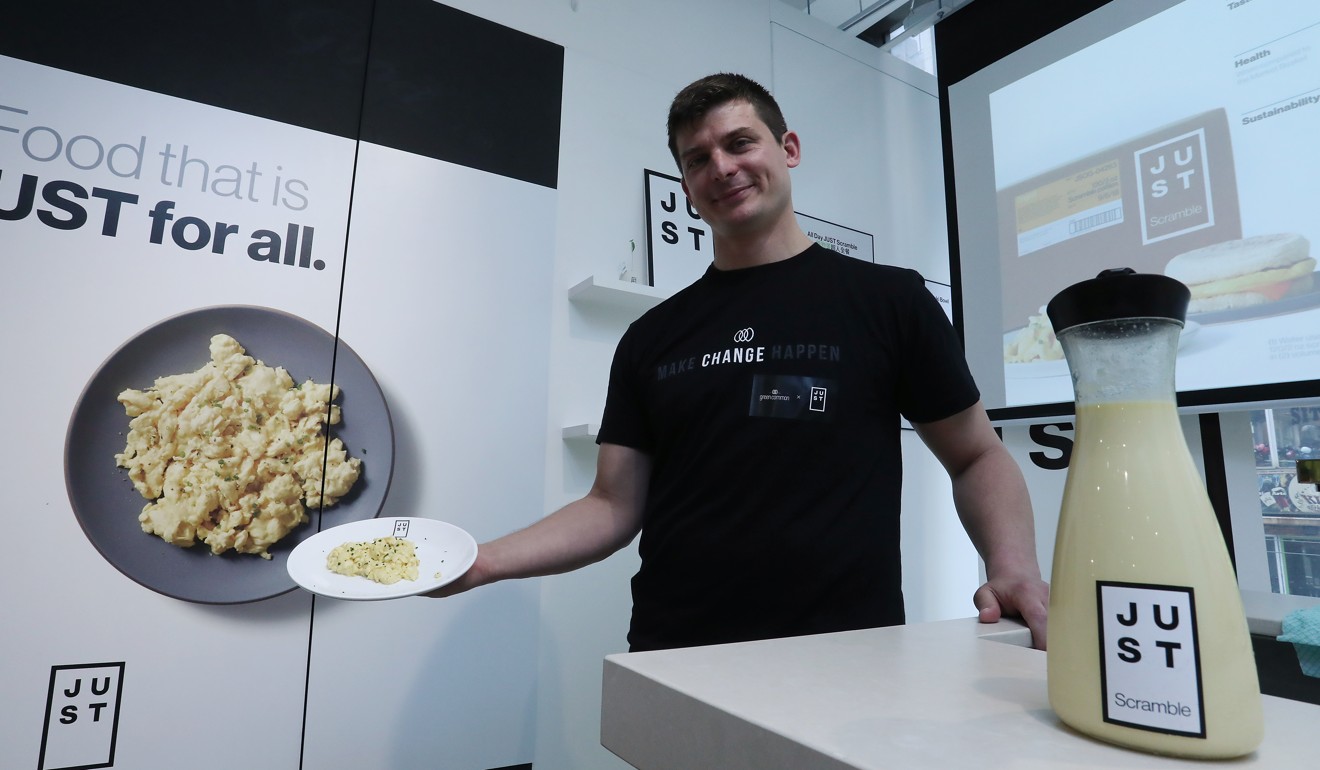 Since its launch nearly seven years ago, Just has begun selling a range of plant-based products, including an eggless mayonnaise, salad dressings and cookies, now sold in Walmart and Whole Foods supermarkets in the US. Tetrick and his partner Josh Balk now employ around 150 people working in various scientific disciplines, including biochemists and chefs.
Tetrick explains: "We source plants from different countries and have robots that look at their molecular properties, then we look at functional characteristics – does it aerate in a pan, does it aerate a cake, does it gel in a pan, does it make a cookie taste good?"
After studying several types of legume, the team discovered the mung bean's egg-like characteristics. Per 100-gram serving, Scramble offers 11 grams of protein to eggs' 13 grams, along with lower fat and none of the cholesterol. As well as scrambles and sandwiches, the product can also be used to make more complex foods, such as butter, ice cream and cake. It has also been successfully trialled in cha chaan teng-style French toast.
Securing investment from Li, Asia's fifth richest man (as of late 2017), involved some classic Silicon Valley savviness and serendipity. While attending an event in the Bay Area hub, Tetrick met Vietnamese technology entrepreneur Sonny Vu, now president and chief technology officer at Fossil Group, who received US$15.2 million from Li's investment firm, Horizon Ventures, for his own wearables company, Misfit, in 2013. He suggested Tetrick meet the tycoon.
There are seven billion people in the world and the way the food system works today simply cannot sustain [them]
Tetrick, who hadn't heard of Li at the time, went away and read up on the Hong Kong billionaire before asking Vu for an introduction. Despite overcooking his Scramble invention due to nerves, Tetrick impressed Li enough for the 89-year-old business magnate to add eggless eggs to his portfolio with a US$23 million investment in February 2014. The product "will definitely be a hit," Li declared at a press conference at the time.
Later that year, Horizon also invested US$75 million in Impossible Foods, the California company focused on creating plant-based food products that look, taste and have the same nutritional properties as meat and dairy.
"He is very interested in innovative approaches to old problems," Tetrick says. "He told me, he grew up poor and understands what the lack of fairness in food is like because he experienced it. He wants to figure out a way to fix that and solve the problem, particularly in Asia, of how sustainable food can be given to more people."
As well as the cash injection, Li's support and connections also opened up Just to Asia and new opportunities in the world's most populous continent. By September 2015, the company had secured a further HK$15 million from Japanese conglomerate Mitsui.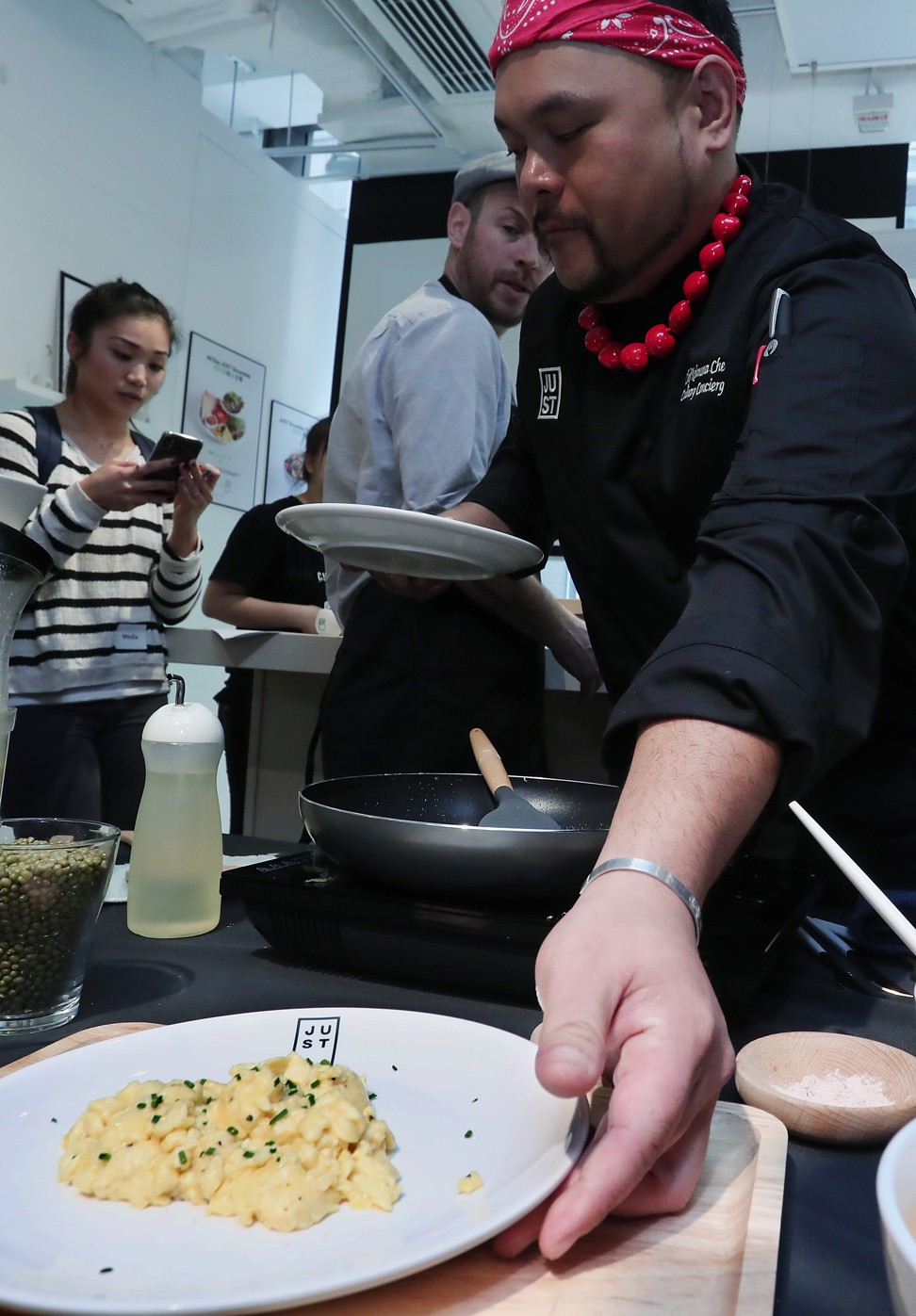 Tetrick's focus landed on Asia when his scientists discovered the mung bean, which originated in China and has been cultivated here for thousands of years. However, now he has the winning formula, his focus on the region won't be moving away.
"When you're raised in the US, you forget about how big the world is and how important the world is outside," he says. "When you take a step back, you see where the world's going, you see where demand is and scarcity and hunger is, and you see where the real potential for change is. It's hard not to say Asia is where we should be."