Having fielded various indecent proposals for his north Queensland wildlife sanctuary over the years, Harry Kunz has now extended a very decent one of his own.
Kunz wants to give away his two-hectare sanctuary and house on the picturesque Atherton tablelands.
The only catch? That the next owners carry on caring for the more than 1,200 injured or orphaned native animals taken in by the sanctuary every year.
Kunz is casting a nationwide net for candidates after a fruitless five-year search for a successor at his Eagles Nest wildlife hospital.
Drug dealers have previously urged him to forget the need for philanthropic funding support, promising him $100,000 a year to allow a dope plantation on the remote property instead, he says.
Some who €œthink Im a senile old idiot giving his house and property away€ eye the house and not the animals, he says, figuring that having a dog or cat qualifies them to care for birds of prey and marsupials. Others see the size of his avian enclosures and propose turning the sanctuary into a zoo.
€œIve had a few offers but I said no, I want this continuing as a wildlife hospital because thats what Ive tried to do for almost 30 years now,€ Kunz says. €œI dont want to lose what I created and built up, every shred, with all my money.€
The hospital was inspired by Kunzs early experiences on his arrival in Sydney in 1982 seeing injured native birds such as galahs and cockatoos put down by Australian vets.
€œI got a shock because, where I come from in Austria, a sulphur-crested cockatoo was $3,000 in a pet shop. I didnt know you could buy them here for $10,€ he says.
€œFor me it was an exotic wonderful bird who had just a broken wing. Whats the big deal? Anybody can fix this.€
Eagles Nest boasts a 78% survival rate for rescued animals.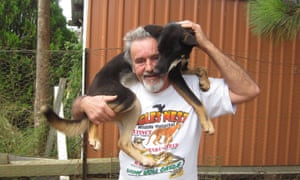 Kunz says he has taken in every species imaginable in north Queensland bar hairy-nosed wombats and crocodiles. Birds of prey, cassowaries, emus, koalas have all been cared for.
Patients are commonly hit by cars, attacked by domestic dogs or cats, or made sick by indiscriminately used pesticides or poisons.
Occasionally local children show up seeking care for orphaned joeys or wallabies as their fathers, who shot the animals parents, sit sheepishly in their utes, Kunz said.
He says the €œbiggest success I can have€ in his local education efforts is to sway visitors away from recreational hunting.
€œThe worst thing Ive discovered is that 98% of hunting is done because its €˜fun,€ he says. €œSome people say, €˜Next year when it grows up I can shoot it.
€œOn the weekend, parties of six or seven people will go to the pub then take their guns and drive out shooting everything €" birds, possums, whatever moves, whatever they see.
€œIve got eagles with gunshot wounds, falcon hawk, cockatoos, you name it.
€œThere is no bigger, stupider predator than humans.€
Animals that cant be returned to the wild live on in the sanctuary.
Kunz says it would be best run by a small team of passionate animal lovers, ideally a couple or family.
The haven he has created, in a region of rainforests, hot springs and waterfalls, is regularly described by visitors as a €œparadise€, he says.
€œFlocks of rainbow lorikeets come down, you have breakfast with the animals, its a beautiful place.€
Prospective successors would be invited to train at the sanctuary with Kunz, €œfor as long as they need€, before he decides on the most suitable to continue his legacy.
He says he can teach everything, from where to obtain free truckloads of bananas or sweet potatoes from supportive farmers, to maintaining the private, government and corporate grants that keep the place running.
€œThe only thing they need is the love for our environment and wildlife, and common sense.€